Normally you wouldn't visit Madrid for the main purpose of eating and trying the Madrilenian cuisine; most of the time the main purpose is to visit one of the greatest cities in the world in order to have fun, to visit the tremendous amount of monuments, churches, and of course, to learn more of its general history.
While writing the first guide, there were so many things and places I wanted to share as the top bars and restaurants in Madrid, or the best food to try, that I decided to dedicate and entire guide just to the best food within Madrid.
What to eat in Madrid
No experience is complete without trying local foods in an ambient environment. Here you will find three remarkable dishes that you must consider and the best places to enjoy them. For every dish, you also have the ideal drink, only from Spain.
Bocata de calamares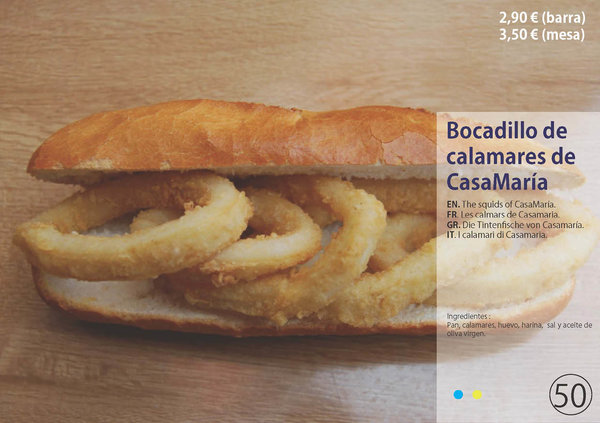 This is a very typical street food style dish from Madrid. You can find it in almost all the Spanish bars and restaurants. It is very simple, consisting of a sandwich filled with fried squids. Usually, the size of the sandwich (bocata comes from bocadillo which is a sandwich in Spanish) is quite big, definitely not like a tapa. A bocadillo is a kind of huge portion of bread, very different than the montadito which is a tiny little bread. The most traditional are also the simplest, nothing added other than a squeeze of lemon. Different types of the bocata have sauce on it like classic mayonnaise or the Spanish garlic based sauce called aioli.
If you have the opportunity to experience a festival or a special celebration, the bocata de calamares should be your street food choice. If not available on the street, there are plenty of restaurants at Plaza Mayor where you can try them, such as La Campana in Calle de Botoneras 6.
Never pay more than 4 euros for a bocata. Furthermore, do not forget to order a fresh Cerveza (beer) to accompany your sandwich. Prices usually vary depending on where you eat; at the barra or at the table (la mesa); it is common in the bars. Talking about cervezas, if you want to taste the very authentic Madrilenian beer, Mahou should be your first choice, it's everywhere in Madrid, not difficult at all to find around the city. It's an institution more than a beer, part of the history of the city.
Tortilla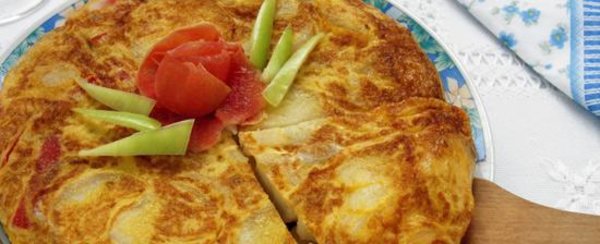 The tortilla is the most famous Spanish tapa. You can start eating a racion (portion) for breakfast, as a pinchos with bread or just a plain tortilla, and finish eating tortilla at night with a glass of vermouth. The main ingredients are potatoes, eggs, and onion, the ideal vegetarian alternative to jamon. In Spain, there are many brands of local vermouth. In Madrid, vermouth or vermut, as they call it, is not only a well-known beverage used as an ingredient for cocktails such as Negroni or Manhattan, but is popular on its own poured over ice or mixed with a little bit of carbonated water, with the sifon. You can find it everywhere in Madrid; in all the tapas bars. When you choose your tortilla, make sure the kitchen of the bar is casera, meaning that it is cooked when you order, not buying it already cooked. It's very difficult to recommend where to get the best tortilla, but some places we might advise are the Taberna Pedraza that has a tortilla counter and the most liquid Betanozs version of this famous plate and Pez Tortilla either in Calle del Pez or Cava Baja, where you can try some many different tastes, truffle-brie-jamon in the following pic.
My favorite tapas bar is called the Cerveceria 
Restaurante Padron 
in Noviciado.  They serve raciones and for every cerveza or vermut you order, a tasty side dish is included for your enjoyment.
Cocido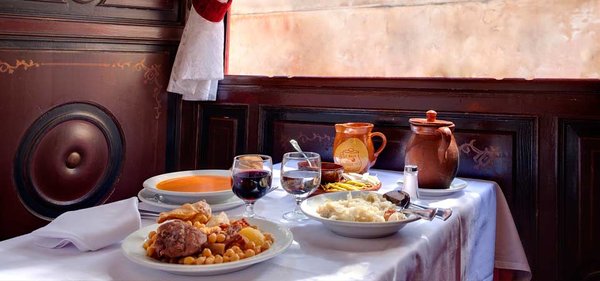 It is called 
Cocido Madrileno
 because it is one of the most traditional dishes of the city. In the very beginning, it was enjoyed by nearly 100% of the population. It is a very popular dish, cooked by families for special days or events; it is very economical and is not considered to be a gourmet meal. When Madrid restaurants started adding it to the menu as a typical Spanish delicatessen, it became famous and even mainstream. The fact that it is a soup with chickpeas and meat definitely makes it a winter dish. Just so there is no doubt, there are also versions of Cocido Madrileno that can be eaten during the summer. When you ask a native 
madrileno
 which restaurant has the tastiest cocido, there will always be one answer: my mother. And it's not the name of the restaurant. But when asked "What is the best public restaurant in Madrid to try cocido?" the answers will change to  
"La Bola" 
situated in central Madrid.
To end such a typical and enjoyable madrilenian meal, you should order the Madroño. It is liquor made from berries of the madrono tree, which is also one of the symbols of Madrid along with the Oso, the Bear. (the sculpture of El Oso y el Madroño is situated in Puerta del Sol). The Madroño is also the name of a famous restaurant in Madrid, which serves shots of the liquor in wafer cups coated with chocolate; situated very close to Plaza Mayor.
Two additional tips
We cannot finish this Madrid food guide without these two additional tips.
(1) Follow the new wave of food districts (barrios in Spanish) by going to Calle Ponzano. Although it is not situated in the very center of Madrid, it has many of the great gourmet stops of the city. You can find very typical Spanish menu restaurants or very contemporary cuisine. Meals for shortly after work or for a late dinner, Calle Ponzano offers plenty of various alternatives. This street has become so famous that they have even coined a verb for it – "ponzaning" because of the completely different atmosphere than in the usual tourist attractions of Madrid.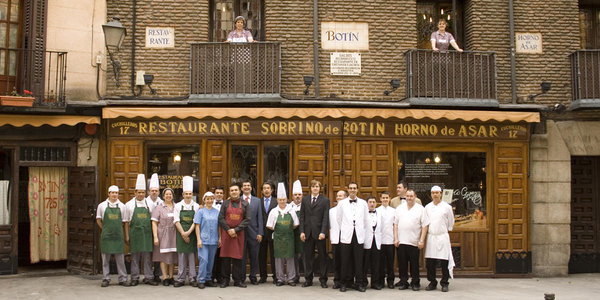 (2) Seek your dining pleasure at the oldest restaurant in Madrid, located at Plaza Mayor. You have to see it, not because of its particular shape, but because the Guinness Book of World Records once named this restaurant as the oldest in the world, which attracts many tourists taking pictures of the old restaurant and the original slab at the entrance which has the date of a refurbishment completed in 1725. It is called 
Restaurant Botin
, founded in 1725, serving traditional dishes and probably one of the best meals of the city with affordable prices.
https://madridiana.es/wp-content/uploads/2019/08/madrid-food-guida.jpg
853
1280
EnzoLauretta
https://madridiana.es/wp-content/uploads/2017/03/madridiana_logopirou.png
EnzoLauretta
2019-07-03 16:17:08
2019-08-03 16:28:47
Madrid Food Guide